Adding a new class the easy way
This guide will take you through the easy way for adding a new class to Rodocodo. It automatically generates easy-to-remember usernames and passwords for your students. If you want to add multiple classes then you should follow the setting up multiple classes guide.
Adding a new class
Log in at https://www.rodocodo.com/admin
Go to the Classes page.
Click on the New Class button.
Enter your class name. For example Gryffindor.
Enter your class year group. For example Year 3.
Select the course. Read this guide for choosing the appropriate course for your class. It's not as simple as the Year 4 class should do the Year 4 course.
Add your students. The format should be firstname, lastname. For example Hermione,Granger.
The completed form should look like this: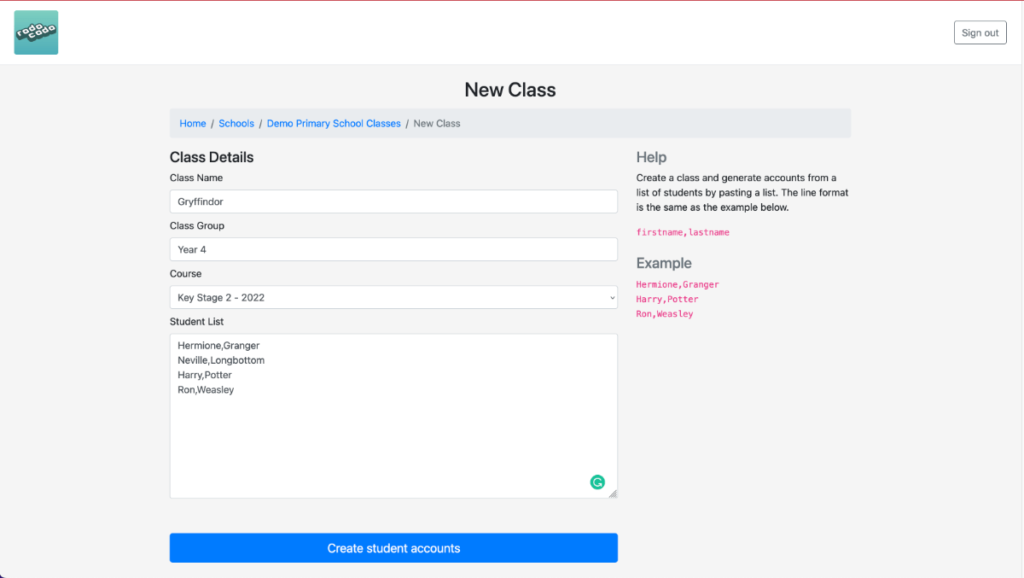 Click on the Create student accounts button.
Your class should be created and your students can login at https://game.rodocodo.com and start using the system.
If you have any problems creating your class please get in touch with us at [email protected], and we'll be happy to help.